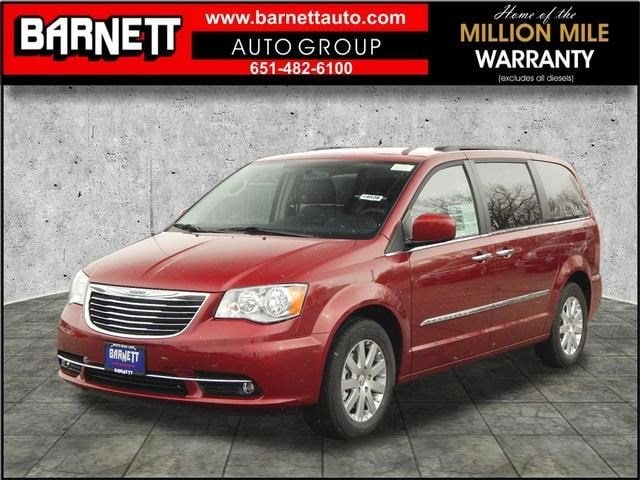 If you're out there looking for a brand new vehicle around inner Grove Heights, believe in Barnett Auto Group's reputation. Barnett's lot in White Bear Lake presents a unique shopping experience for Chrysler cars and mini vans that is unlike anything you have experienced before. They have been serving the Inner Grove Heights Area for over 50 years, and love what they do. Stop by and see them to schedule your next test drive and experience the Chrysler difference.  
Chrysler 200 Near Inner Grove Heights, MN
The Chrysler 200 is the ultimate mid-sized car for living, working, and playing within the Inner Grove Heights area. With an excellent fuel economy of 23 mpg city and 36 mpg highway, you can take the long way home without thinking about how much fuel you have. When you've got a vehicle this game changing, you enjoy your time on the road. With a great starting price, you can afford to get all of those add on and packages that you always see, but never consider. The friendly staff of Barnett Auto group of White Bear Lake has the Chrysler 200 that you have always wanted at a price you can afford.
Chrysler 300 Near Inner Grove Heights, MN
Step out of the luxury sedan box into something new and special. The Chrysler 300 has the style, aggressive lines, and luxury interior that many competitor's models claim to have but never deliver. With many different colors to choose from and trim options, you can stand out from the crowd and own something truly special and personal. Take one for a test drive form Barnett Auto Group in White Bear Lake and you will never shop anywhere else again. Their no pressure sales philosophy and friendly knowledgeable staff is exactly what you have been looking for.
Chrysler Pacifica Near Inner Grove Heights, MN
Sometimes in life a midsized car just isn't enough. The Chrysler Pacifica comes with everything that you love about owning a Chrysler, but with all of the space having kids and a busy lifestyle needs. Whether it is a trip to the store, or the next big game for your family. There is room for everything in a Pacifica. Combine this great space with an 18 city 28 highway mpg, you can get what you want, with a fuel economy that won't break the bank. Take one for a test drive today from Barnett Auto Group of White Bear Lake.