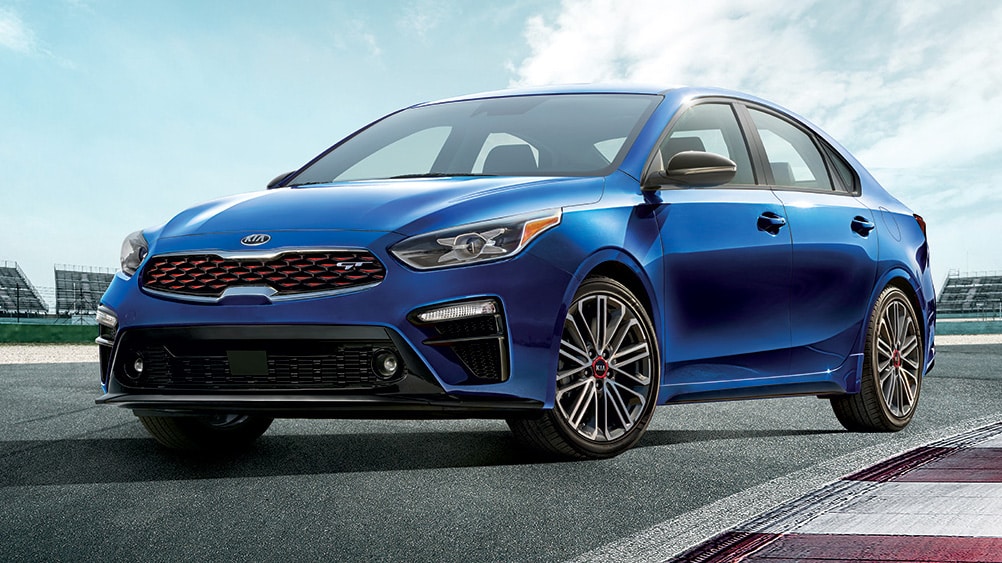 If you want a new car with great features and great gas mileage at a great price, take a look at the selection of Kia vehicles at your Kia dealer near Maplewood, MN. Smooth riding sedans and do-it-all crossovers won't drain your wallet so you can take pleasure in every ride without the weight of payments on your mind. Take a test drive today and see what a Kia can do for you.
Kia Forte Near Maplewood, MN
The Kia Forte is the most fuel-efficient car on the Kia lineup, but it isn't just about practicality, and it's a blast to drive. You'll snag all the best parking spots and zip through traffic while your fellow commuters stop at the pump. Whether it is a long haul or a quick trip, the Kia Forte will keep delivering on the thrills. See one for yourself at your Kia deal near Maplewood, MN.
Kia Rio near Maplewood, MN
At first glance the Kia Rio may seem small, but it packs a serious punch. Fuel efficient, so it keeps you on the road longer than the competition; it also provides a great driving experience for those searching to put the excitement back in driving. They say good things come in small packages, and the Kia Rio is case in point. Test drive one today at your local Kia dealer near Maplewood, MN.
Kia Sportage near Maplewood, MN
If you are looking to upgrade your sedan for something more family-friendly, or maybe you need a little more room for cargo, check out the Kia Sportage. A sleek yet sporty body style makes a subtle statement, yet it is ready for fun, and can still fit in with the business crowd on city streets. You'll love the spacious cabin for the kids or friends, and it offers cargo space for equipment, groceries, or whatever else you might need to transport. The Kia Sportage is ready for it all and available now at Barnett Auto near Maplewood, MN.
Barnett Auto is proud to have a great car dealership near Maplewood, MN.  We provide KIA, Chrysler, Jeep, Dodge, Ram, and used cars for shoppers near Maplewood, MN.
Other Kia near Maplewood, MN
 
Kia Cadenza
Kia Optima
Kia Sorento
Kia Soul
Kia Optima
Kia Sorento
Kia Soul