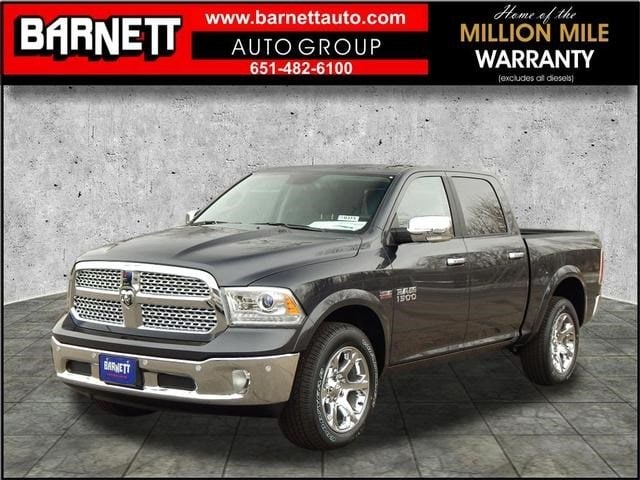 Once in a while when you are searching for a fantastic new vehicle, you stumble into a car dealership that is as passionate or more so than the vehicles that they promote. A lot of times you can tell a lot about a dealership by how long they have been around. The Barnett Auto of White  Lake loves the Ram motors that they sell, they have been doing it for over 50 years. If you have never test driven a Ram before, there is no better time than now. Stop by Barnett's lot in White Bear Lake and see why people keep coming back to Barnett.
Ram 1500 Near Hopkins, MN
The Ram 1500 goes where you go. Uptown, downtown, or out of town the Ram is at home on the road. With an impressive fuel economy of 21mpg city and 29mpg highway you won't break the bank at the pump when you fill up. Combine that with a generous $26,295 starting price and you have found something special to talk about. Stop by White Bear Lake at Barnett Auto Group and see what else the Ram 1500 has to offer you.
Ram 2500 Near Hopkins, MN
The Ram 2500 is perfect for those people that have driven the 1500 and love its style and value, but are looking for something with a little more torque and towing capacity as they upsize their toys. All the Ram quality and style that you have come to love with a Ram, but a little more grown up taste. With the 2500 you can bring all of your toys on your next big adventure. No one has a better selection of the Ram 2500 than the folks at Barnett Auto Group in White Bear Lake.
Ram 3500 Near Hopkins, MN
The Ram 3500 is a big truck, in a stylish package. If you need to pull a piece of equipment to the next job, or your monster fifth wheel to the next state, this is the truck for you. Get all the power you have always wanted, without the outrageous price tag. With a starting price of around $33,195 take one home today. There is no better place to see the 3500 in all of its glory than the White Bear Lake lot of Barnett Auto Group. See what all the fuss is about with the Ram 3500.  
Other Ram Near Hopkins, MN
Ram Chasis Cab
Ram Promaster
Ram Promaster City