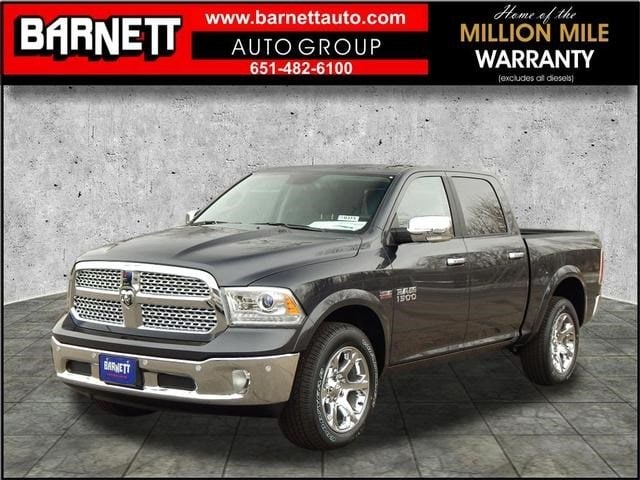 Sometimes when you are shopping for a great new vehicle, you stumble across an automotive dealership that is as passionate as you are about the vehicles that they sell. If a dealership has been around for more than 50 years, it is pretty obvious that they love what they do. The Barnett Auto Group of White Bear Lake loves the Ram vehicles that they sell. If you have never considered a Ram before, stop by there lot and check out what they have to offer.
Ram 1500 Near Hugo, MN
If you are looking for a hard that plays and works as hard as you, the Ram 1500 is the truck that you have been searching for. Power, torque, and towing capacity are all within your reach. With a consumer friendly starting price, you can customize the Ram 1500 for your life. Whether you live and commute in the city, or live in the country, the Ram 1500 is at home where ever you call home. The Home for Ram near Hugo is the Barnett Auto Group of White Bear Lake, come check them out and take one home with you.
Ram 2500 Near Hugo, MN
While the Ram 1500 is a truly impressive truck for the value, sometimes you need something with just a little more power and towing capacity. With an excellent 17,510lb towing capacity and max payload of 3,610lbs combine with excellent gas mileage make for a great all around truck. Don't be afraid to break out of the mold and try something that you may have not considered before.  Stop by and check out the Ram 2500 from the Bennet Auto Group at their lot in White Bear Lake to see the Ram difference.
Ram 3500 Near Hugo, MN
It is too easy to just settle when it comes to buying a full sized truck in today's auto market place. It can seem like it is impossible to get power, torque, and value in the same package. While a bigger truck Its possible to get a larger truck with all of these options with the impressive with the impressive 5.7-Liter V8 HEMI® VVT Engine standard with all models. If you want something special under the hood, there are other options as well. If you want to see what the big boys drive, stop by the lot of Barnett Auto group in White Bear Lake today.  
Other Ram Near Hugo, MN
Ram Chasis Cab
Ram Promaster
Ram Promaster City