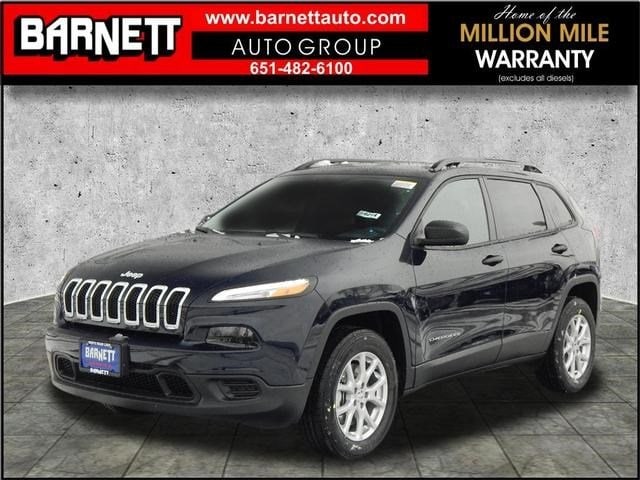 Nothing says fun like a Jeep does! They're rugged, equipped, edgey, and let's face it - they're a blast to drive! If you're looking for a Jeep near Blaine because you want the family friendly Patriot, or because you really have been craving the adventure of a Wrangler Unlimited, then Barnett Auto is the place for you! We have a gigantic selection of Jeeps and we cannot wait to help you find the one that's perfect for you so that you can get started with the fun driving can offer! Come visit our car dealership near Blaine and get your Jeep on!
Jeep Grand Cherokee near Blaine, MN
Rugged and refined looks, powerful V6 engine, and ample space for passengers and cargo alike are all things that describe the Grand Cherokee, but it's driving the Cherokee for yourself that really defines the whole experience! You can haul your boat to the lake with the kids, or you can just drive this bad boy around town. It doesn't matter. Wherever you take the Cherokee - that's where the adventure is! Come on down and check out the leather-trimmed seats, state-of-the-art technology features, and more at Barnett Auto today!
Jeep Renegade near Blaine, MN
The Jeep Renegade takes the look of the classic Jeep and bumps it up a notch. Or seven! It sits higher on it's road-gripping tires, has a no-frills front design, and personality out the wazoo! Inside there's premium cloth seating, personalized instrument cluster, and all the techy equipment you could think of!
Jeep Wrangler Near Blaine, MN
When you were a kid there was nothing better than driving your friend's little battery powered Barbie (or Batman) 4x4-ish car around. Now you're an adult, and it's still fun to drive a 4x4 over everything else! The Jeep Wrangler is the fun kid's car brought to life, with more fun and a whole lot more engine! The 3.6L Pentastar® V6 engine can take you more than up and over the curb, it can take you up and over the mountains! See this Jeep near Blaine and more at Barnett Auto, and let the kid in you free!
Other Jeep Near Blaine
Jeep Cherokee
Jeep Wrangler Unlimited
Jeep Compass
Jeep Patriot